Over 40 people gathered at the Brookover Gallery in Jackson, Wyoming this week to learn about modern techniques for producing handmade photogravure prints. Jon Lybrook of Intaglio Editions has printed nine editions for David Brookover so far with more scheduled for release in the summer. This spring David is going on an excursion to Iceland and Europe for over two months to travel and capture more amazing images of the natural world.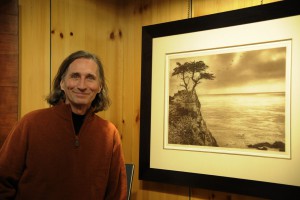 David has been photographing the great outdoors for over 40 years gaining an international reputation for technical and artistic excellence as a large format photographer using an 8×10″ view camera.  In recent years, he has moved to digital and has begun publishing his prints as photogravures on handmade Japanese gampi as well as heavier western papers from Italy and Germany.
Historically the collaboration between photogravure artists and the printmaker has been based on a tremendous amount of trust and goodwill. The artist must trust that the printmaker will make the correct technical decisions and the printmaker must trust the artist will make the best aesthetic decisions. The lines between what is technical and what is aesthetic are often blurred and so, sometimes the roles of artist and technician are reversed.
The talk was sponsored by the Teton Photography Group of Jackson and covered a brief technical explanation of the polymer photogravure plate and printmaking process followed by a show-and-tell of materials, papers, and techniques for printmaking.  Examples of chine colle, the technique of applying fine, colored papers onto a handmade print were shown as well as descriptions of how a typical intaglio plate is inked and printed on a press using dampened, fine art paper.  Jon Lybrook also showed examples of his own printed work, both photographic and non-figurative and those of other photogravure artists he has worked with.